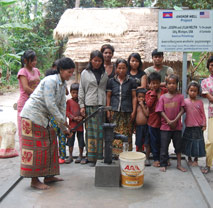 One of the most pressing issues facing rural villagers in Siem Reap Angkor Cambodia is a lack of clean water. Our wells now provide safe drinking water for over 6500 rural Cambodians. But there are hundreds of thousands of Cambodians who are drinking and washing with dirty and disease-ridden water. Please help us give the gift of clean water with your small donation.
The importance of water cannot be underestimated. Convenient access to a safe and reliable source of clean drinking water has undeniable impacts on a multitude of other aspects of human well-being, including health, life expectancy, food security, educational opportunities, and incomes.
HELPING THE POOR FAMILIES
The underlying goal of Angkor Well Project 's development work in Siem Reap Angkor is to transform the lives of poor Cambodians by creating sustainable communities where they have access to safe water.
YOUR OPPORTUNITY TO MAKE A DIFFERENCE
There is an opportunity for concerned individuals to improve life in Siem Reap, Angkor.
HOW YOU CAN MAKE A DIFFERENCE
A pump well price ranges from USD 350.00 dollars to USD 2000.00 dollars in accordance with the distance, quality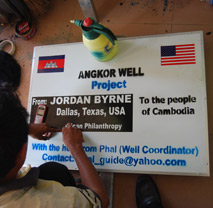 and size of the well. The average cost is USD 350 dollars per pump well. Any amount you can contribute toward the project will be greatly appreciated.
Once your donation is received, the well will be completed in 20 - 30 days. Photos of your plaque, families and well will be sent to you with names of the well beneficiaries.
In order to achieve this objective, Angkor Well Project will continue to work with communities to provide clean drinking water.